Can you separate the art from the artist?📚
JK Rowling's return to the Twitter soapbox has got me thinking...
Amidst this weekend's Black Lives Matter protests, where thousands gathered in cities across the world to fight for civil rights and against police brutality, JK Rowling popped up on Twitter… not to share the link to George Floyd's petition or to announce a seven-figure donation to a BLM charity, but rather to once-again share her views about the legitimacy of trans rights.
As a self-professed Ravenclaw and all-round Harry Potter fan, it hurts me to see Rowling share opinions that I so vehemently disagree with.
This is not the first time Rowling has spoken out about transgenderism. She is well-known for tweeting her trans-exclusionary radical feminist (TERF) views.
The Harry Potter author's latest controversial tweet continues her notion that trans-women can never truly understand the suffering of the cis-woman. Taking it one step further, Rowling infers that only women menstruate.
There is a unique inner struggle that occurs when an artist whose work you love shares opinions you stand so firmly against. This isn't a new concept. Woody Allen is still making films, despite decades-worth of allegations of sexual abuse. English Literature students still revere the works of H.P Lovecraft, the father of horror and a well-known racist (I am not a fan of either of these, by the way - just using them as examples of popular creators who are crappy people.)
So, in this capitalist society of ours, by buying the art created by these individuals, are we supporting them and their views?
On the other hand, is it even possible to only support creators who live by our exact values? I must add that I am writing this while wearing a Harry Potter sweatshirt… so this is the perfect allegory for my confusion about the issue at hand.
I'm delighted to see Harry Potter stars Daniel Radcliffe and Katie Leung have spoken out in support of trans rights and against Rowling's polarising opinions. I highly recommend reading Radcliffe's whole piece on The Trevor Project, here's a snippet:
Transgender women are women. Any statement to the contrary erases the identity and dignity of transgender people and goes against all advice given by professional health care associations who have far more expertise on this subject matter than either Jo or I. According to The Trevor Project, 78% of transgender and nonbinary youth reported being the subject of discrimination due to their gender identity. It's clear that we need to do more to support transgender and nonbinary people, not invalidate their identities, and not cause further harm.
Without Rowling, we'd have no Harry Potter. But creating great art doesn't (and shouldn't) give you a free pass to say and do whatever you want without facing the consequences.
It's all about where we see the lines between the art and the artist. Can we see them as separate entities? Or should we "cancel" those who use their fame to spread toxic opinions?
What do you think? Quite frankly, I have no idea.
---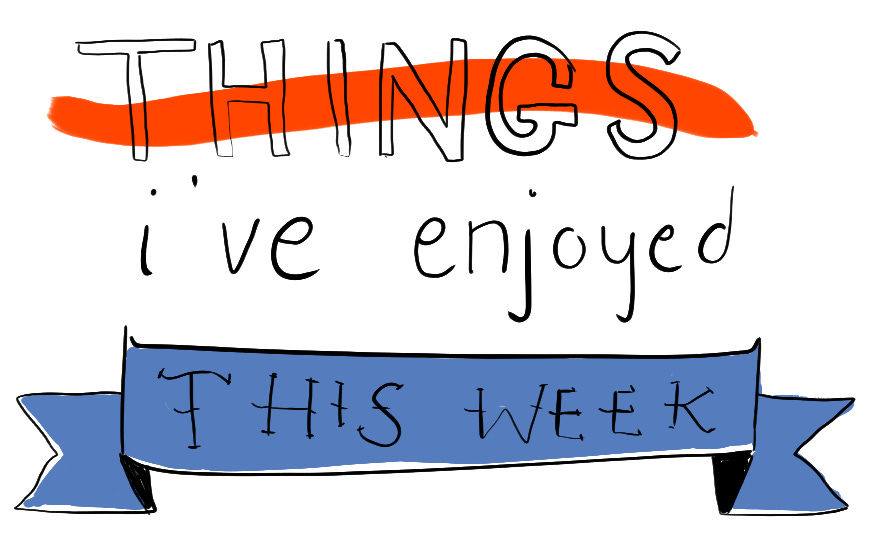 Things I've enjoyed this week, i.e. books I've read this week…
Last week, I mentioned I was deep into Voyager by Diana Gabaldon - the third instalment in the Outlander series. I finished it and this series continues to be really fun to read (if a little farfetched at times). I preferred this one to the second book, and I hear the most recent (eighth - I think!) is amazing, so maybe I'll get there before 2020 is out.
I tend to split out my epic reads (Voyager was 1,100 pages and took me 11 days - v. slow for me) with some shorter books. I read Scythe by Neal Schusterman, the first in his Arc of Scythe series on Saturday and already started the second, Thunderhead. This story is gripping me at my very core. Highly recommend!
The YA series is set in a world where they have eradicated death, so there is a group of people called Scythes who have to keep to the population under control through a "gleaning" (killing!) process. I won't say anymore, as I hate spoilers, but it's basically a Hunger Games-esque dystopian series that seems to be growing well-beyond the initial concept - and Schusterman's writing is wonderful.
---
As has become Conversations By The Sea tradition, I'll round close the newsletter with a reminder of my Twitter and Goodreads links, wish you a lovely Wednesday and share my favourite doggy photo from the week.
Potter and I having a cuddle on Friday lunchtime: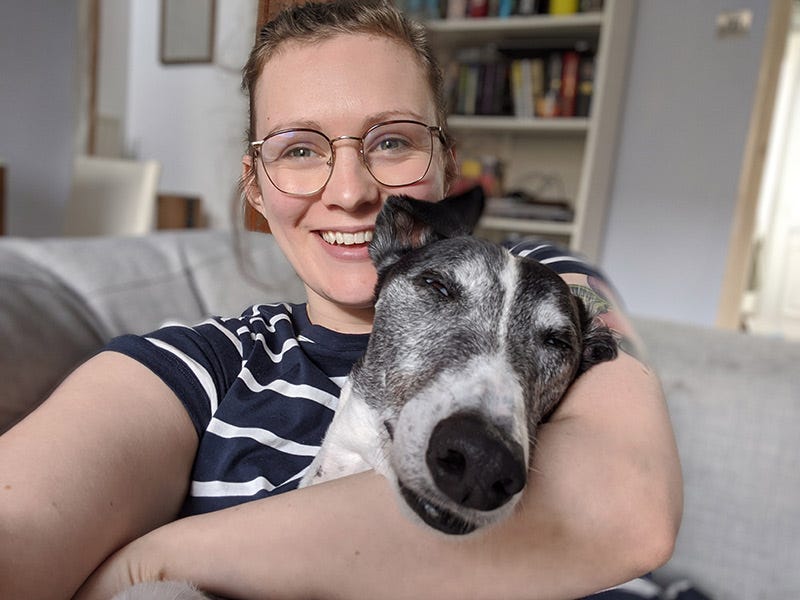 Until next week!
Ellen x
---
Enjoyed this? Read past issues:
3 June - Know your worth 💸
27 May - Let's talk about money
20 May - A mental health catch up
13 May - The fantasy characters of lockdown
6 May - The Personal Brand has never been so personal
29 April - When the inspiration runs dry
22 April - One year on…
15 April - It's a great time to be a generalist
8 April - Content creators are performing a national service