Discover more from Conversations By The Sea
This is a newsletter about mental health for the chronically online. Sent every Thursday morning.
Over 1,000 subscribers
Poetry in Notion: How one tool revolutionised my work ✨
Me + Notion = ❤
During my time working both in-house and as a freelancer, I have used many different project management tools in an attempt to stay focused and keep on top of everything.
I've been very fortunate to be busy during 2020, which is great for the business but not always ideal for my mental health. If I don't keep track of things, I risk dropping the ball and that's what was happening a couple of months back.
I got mixed up on some meetings, under-delivered on a highly valued client and found myself in a perpetual state of burnout. So, I embarked on the familiar journey of trialling project management and productivity tools that would suit my often-chaotic and easily-bored brain. Trello and Asana are okay, I don't have anything against them and I do often recommend them to clients who have no content calendars or marketing plans, but I do find the layouts to be limiting.
Then a client introduced me to Notion, the "all-in-one workspace" and I was immediately drawn in by the flexibility (you aren't stuck with just kanban boards, for instance), and also the concept of linking databases together… 🤯
So, I set about learning how to use Notion - not just for keeping track of tasks for my business, but also for monitoring my own mental health and burnout tendencies. That's when I stumbled across Marie Poulin, productivity 👸 and Notion master, who regularly makes videos exploring the power of Notion.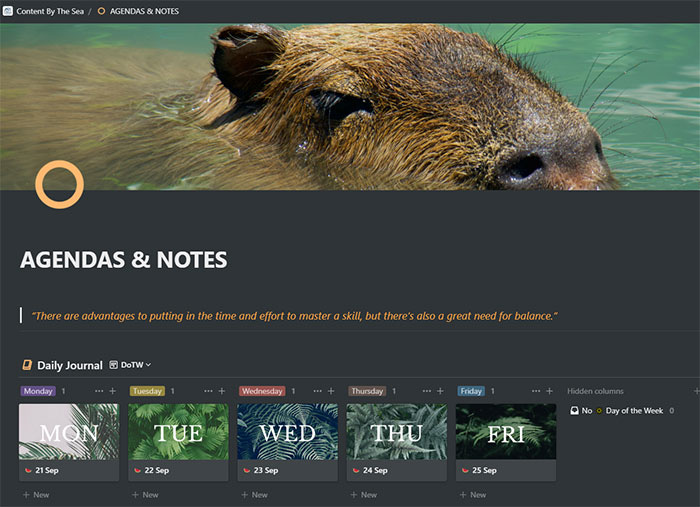 I've come to a place where I am happy enough to share the structure of my workspace and how I use it - if I can switch just one person onto working smarter and, ultimately, minimising that crushing feeling of toomuchtodo then I'll be happy.
Watch my Notion Walkthrough below or click through here to watch on YouTube. I've had to blur a lot out, but hopefully, it is still clear enough to inspire you to create a workspace of your own.
Watching the video back, other than my tendency to say "essentially" all the time, I am impressed with this little chunk of wisdom so I will leave you with that…
Effective project management is about minimum maintenance and maximum impact.
---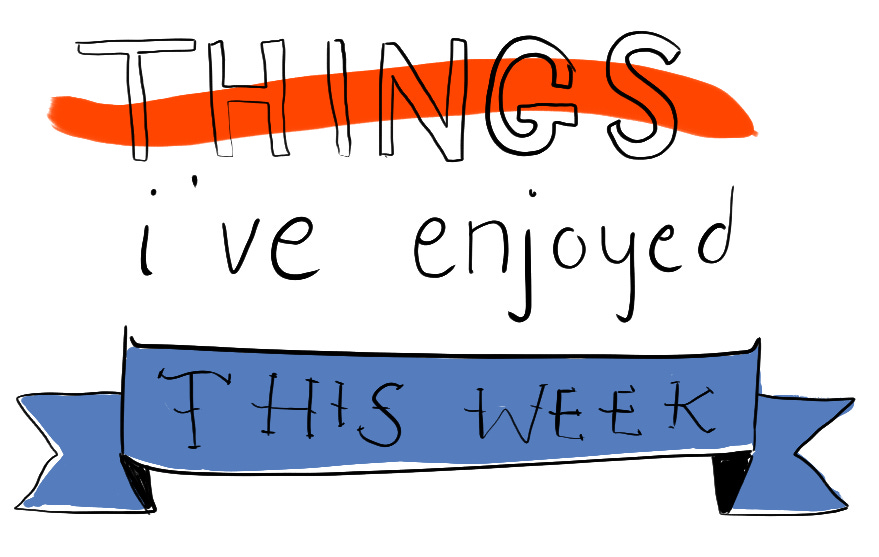 📚 This week's read has already found its way into my top books of all time, Foundryside by Robert Jackson Bennett is a dystopian fantasy that starts with a young girl on a heist and turns into a huge exploration of a corrupt and highly intricate world. If you like Warbreaker by Brandon Sanderson then you'll love this, the magic system is complex but RJB writes in such a way that it's not a slog at all. I loved it so much that I've already ordered it in hardcover from the US, along with the sequel, Shorefall.
🎨 I'm back exploring my artistic side and I've created a new Instagram account to go alongside my side venture as a budding illustrator. I received my first commission last month and I am hoping to take a limited number for Christmas, particularly cute pet portraits so follow me here, if you like that sort of thing.
---
And that's it from me this week! As usual, you can find me over on Twitter @ContentByTheSea.
If you liked this newsletter, please share it with fellow stress-mongers and productivity addicts.
---
Enjoyed this? You might like these past issues:
16 September - A sceptic's guide to self development
9 September - A quick one from Bonny Scotland
26 August - What I learned from my most profitable months as a freelancer 💰
19 August - Don't optimise your life, just live it 🏃‍♀️💨
12 August: The 💩 parts of freelancing that nobody ever talks about
5 August: Do what makes you happy, even if you're 💩 at it...
29 July - How to know when it's time to quit 🚫
22 July - You've got a friend in me 🤠👩‍🚀
15 July - The hardest part of writing is writing 🖊
8 July - The dangers of the side hustle
1 July - I timed my working life for a month 📅